July 2021
The Geneva model made for Zhang Xiongguan was finished and sent to Shanghai to meet its new owner. This 14-fret non-cut model with Rosewood back and sides has a great acoustic sound, very similar to our model you can see Gilad Hekselman play below.
We chose Gotoh Stealth tuners for the headstock of the Brazilian Bandolim we're making. 10 Tuners add a lot of weight that the owner and myself decided we could do without. These lightweight tuners are a perfect solution. The headstock design is done in the same fashion as the one on my archtop guitars.
The latest batch of Small Jumbo's is about ready for its first coats of lacquer. We fit the necks, so there's now only (a lot of) sanding left to do, and then te finish can be applied. The Small Jumbo's are built in batches of 4, and this is batch 4 of 5.
A Flamenca Blanca is coming along nicely. The back was glued to the sides last week, so we now have a box! Next week,  I'm going to rout the binding channels and make the fretboard.
---
Last March, the great Gilad Hekselman reunited with his Geneva Model in a live-feed on Facebook. See the performance here: 
---
May 2021
The last couple of months were very busy indeed! We've started on new flamenco guitars and Nylon Jazz models, Thinline models Blue and Gold are just about finished, as is the Geneva model we're making for our friend Zhang Xiongguan. Also, the Brazilian Bandolim is on track, and the Small Jumbo series is coming along nicely.
---
December 2020
The amazing Lionel Loueke has a new album out!
'HH' is a tribute to his mentor Herbie Hancock, full of the master's great compositions and brilliant arrangements. We're proud to say that 90% of the tracks was played on our 7-string, multi-scale Geneva Nylon Jazz model. Scroll down a bit to learn more about the guitar and get your copy of the album here...
The nice people who make the 'Business Jam' podcasts came by for an interview about the business side of guitarmaking. Good fun! We talked for half an hour about how to make a living building guitars, mistakes made, and how Covid has affected the business.
Listen to it here... (Dutch).
Build-wise, the Geneva Nylon Jazz model we're making for our new friend Zhang Xiongguan is right on schedule, as are an Archtop Ukulele and a 9-string archtop we started on last month.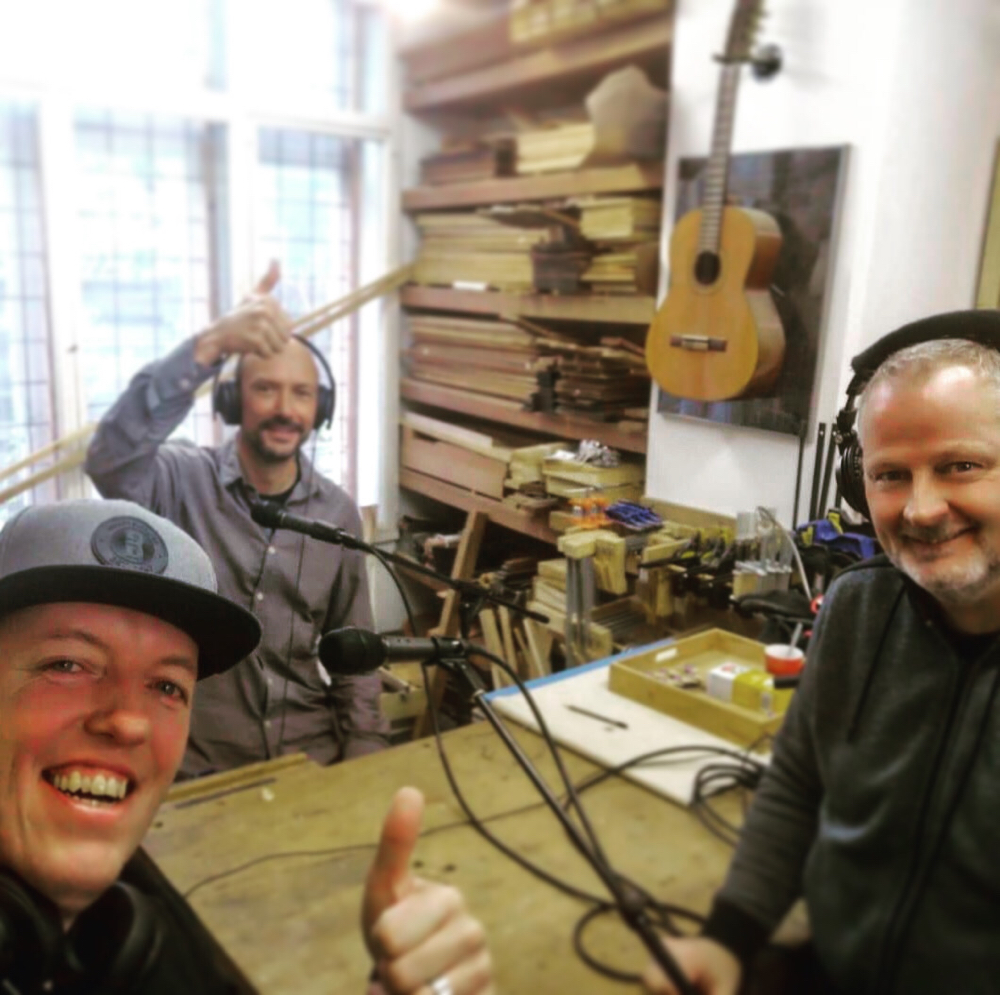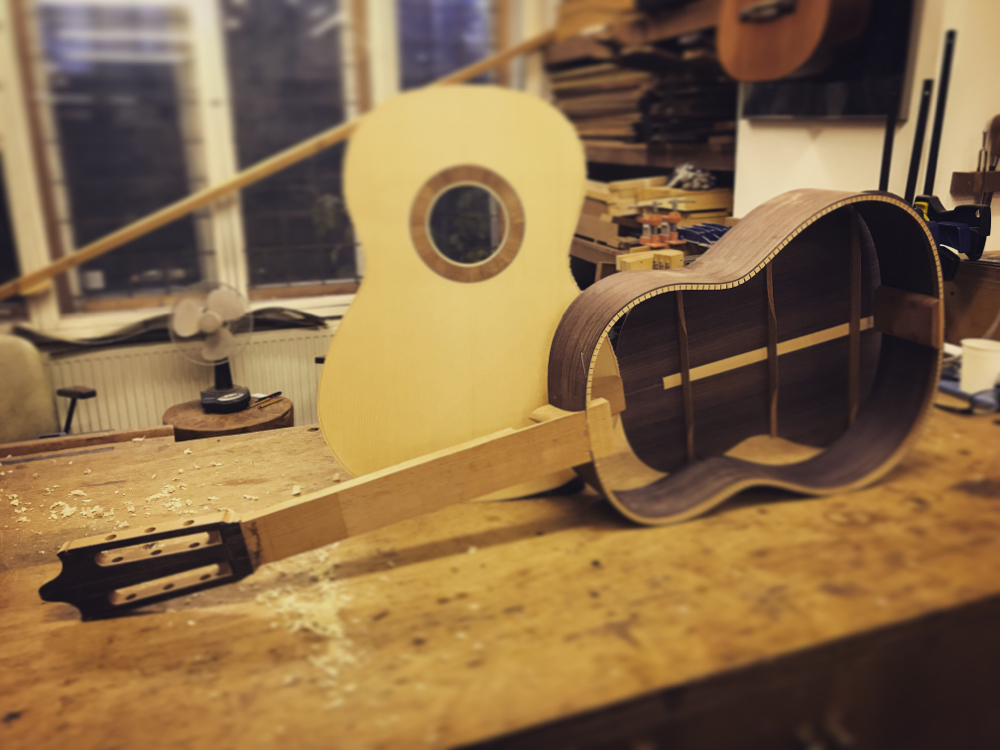 ---
A good 15 minutes after he got his Custom Geneva Model, the amazing Lionel Loueke posted this short clip:
---
The great Gilad Hekselman improvises an arrangement of 'When You Wish Upon a Star' just after receiving his new Geneva Model!
---
November 2020
Two nylon string guitars were recently delivered to their new owners. One is a Classical instrument with African Blackwood back and sides and a Turquoise rosette, the other a Flamenco guitar that has a back of 100+ year old Spanish Cypress
Both are finished with French polished shellac and are fitted with Rodgers machine heads.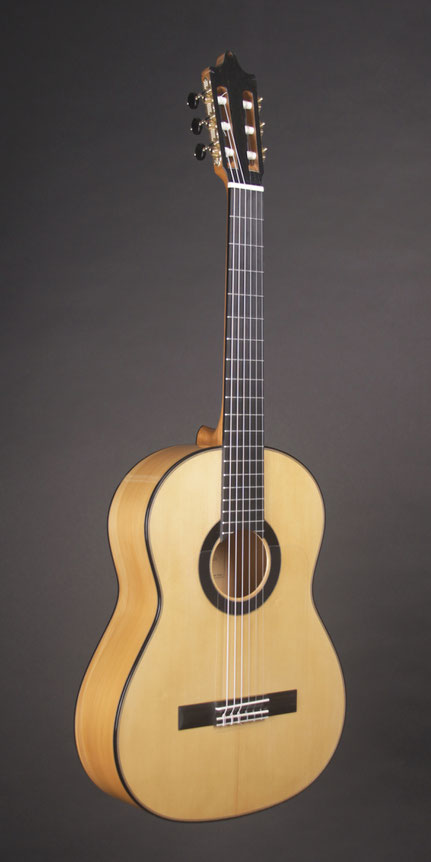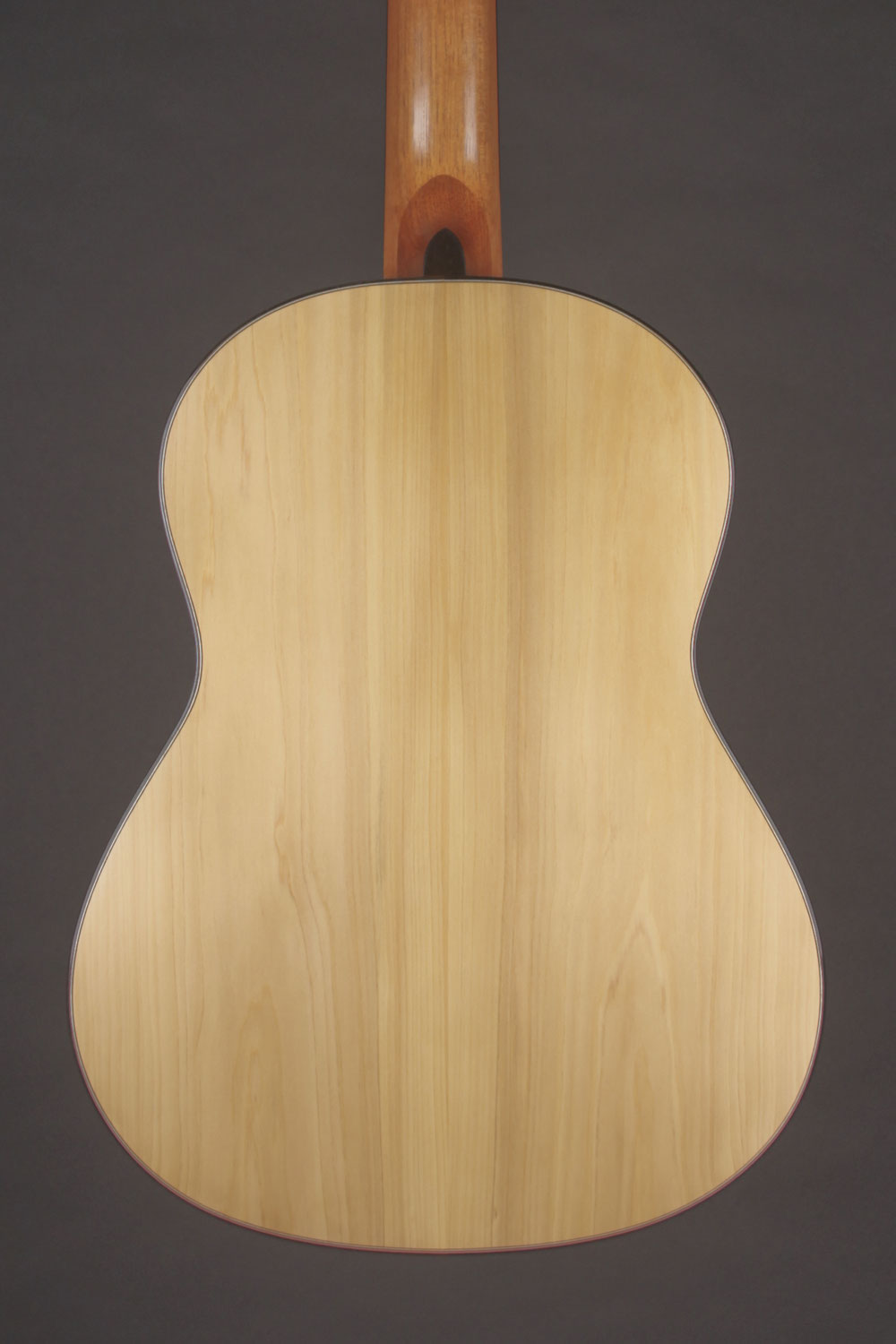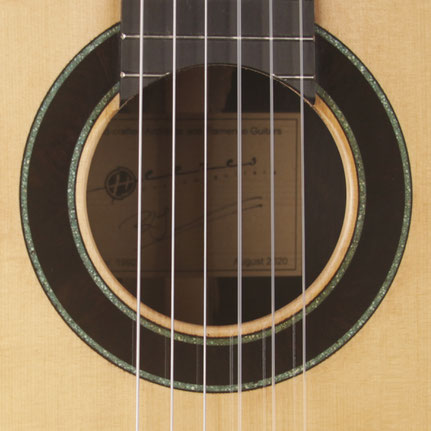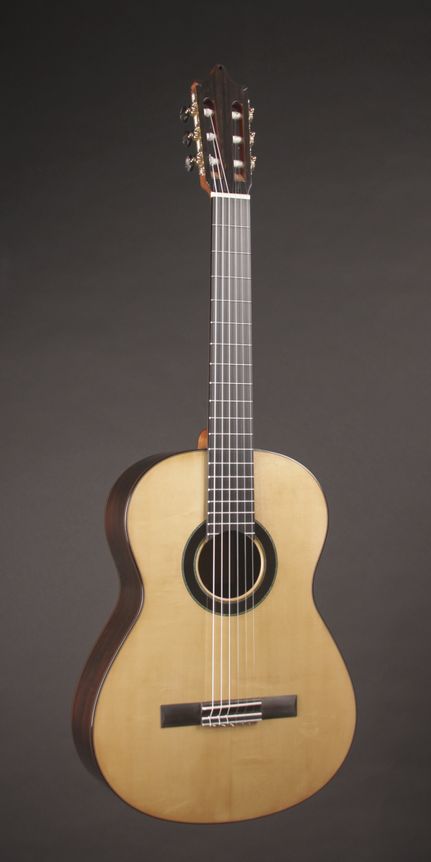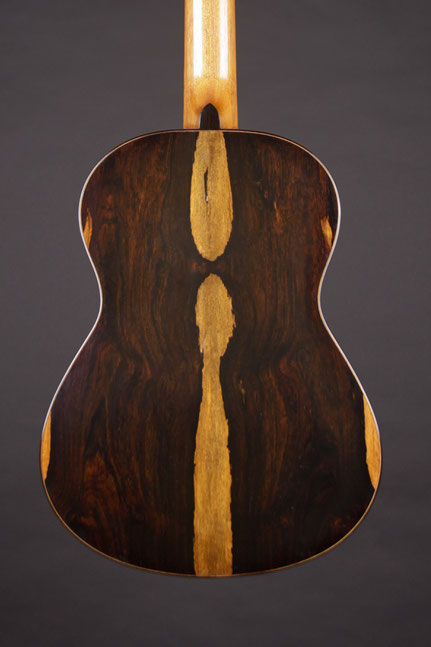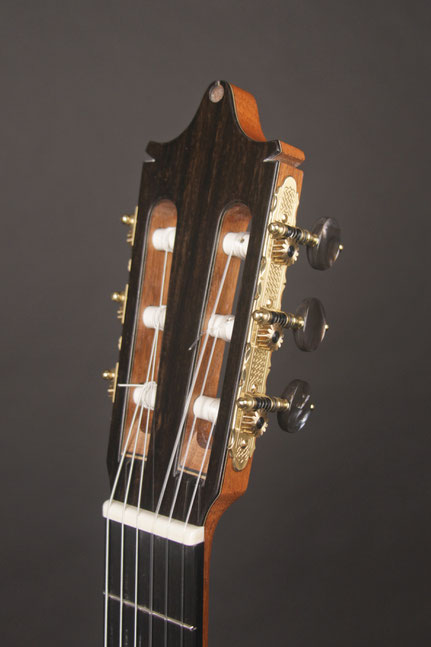 ---
April 2020
The  box for a Brazilian Rosewood Geneva model we're working on is closed! So, we can now concentrate on the bindings and start making the fretboard.
This instrument should be ready for French polishing soon, and that gives us time to work on two next projects : an African Rosewood classical guitar and  a Flamenco guitar with 100 year old Cypress back and sides.
---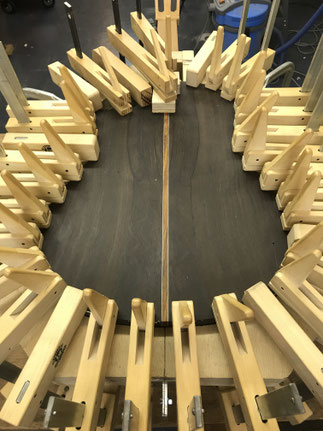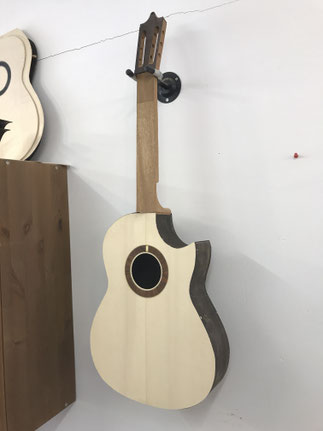 ---
March 2020
 A new model 'Blue' and model 'Gold' had their first coats of finish applied. Both are thinline electrics, 'Blue' being a bit deeper than 'Gold'. 'Blue' has a recessed Tigerstripe Maple top with crushed Turquoise inlays. 'Gold' has a Quilted Maple top with Gold Sparkle inlays. These instruments will be on display at the Holy Grail Guitar Show in Berlin on May 2nd and 3rd.
Another guitar we're currently working on is a Brazilian Rosewood Geneva model. The sides are bent, plates tuned and heel shaped, so we can start assembly soon!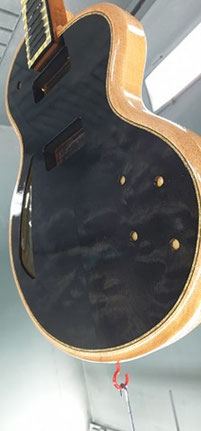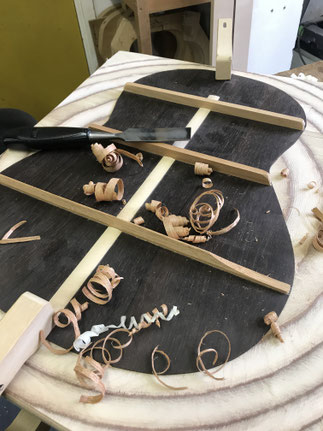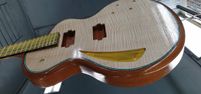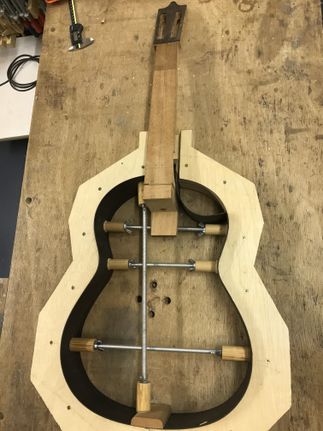 ---
February 2020
Last week, we delivered a brand new 7-string, multi-scale Geneva Model, which was commissioned by non other than the great Lionel Loueke! This instrument has Madagascar Rosewood back and sides with a European Spruce top. It's fitted with Gotoh 510-series tuners and L.R. Baggs amplification.
Watch Lionel play a few bars on his new guitar right out of the case in the clip below (and wait for his comment at the end...).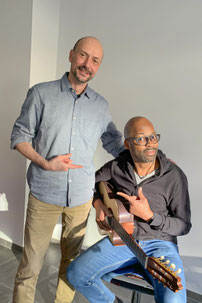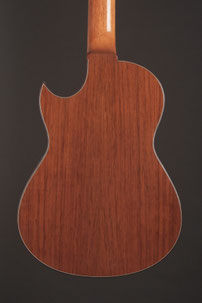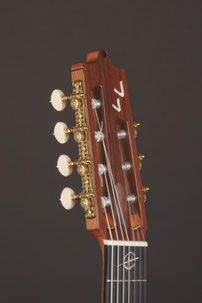 ---
January 2020
Happy New Year!
We hope you had a good festive season and are ready for a great year with lots of music and guitar playing! We spend our time doing some much needed maintenance and insulation of the workshop floor, so we're all 2020 proof now.
If your new year's resolutions include finally start building your own dream guitar, why not enroll in our Guitar Making Course in real life? See the pictures below for possibilities.
Cold feet? See how it's done in our free online course. The sound of the first three videos isn't great, but it gets better after.
For more information, click here, or contact us.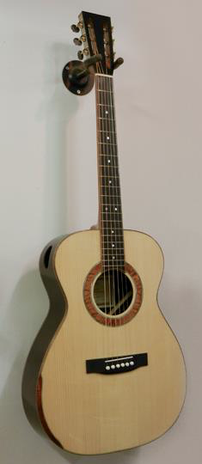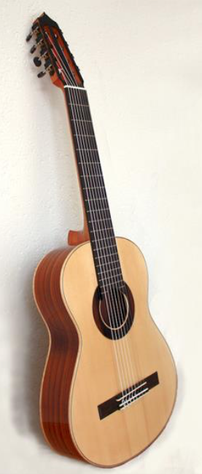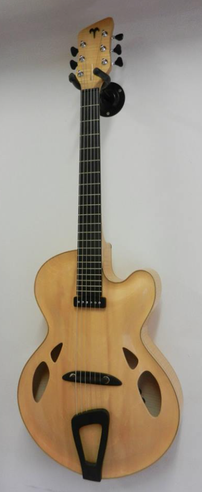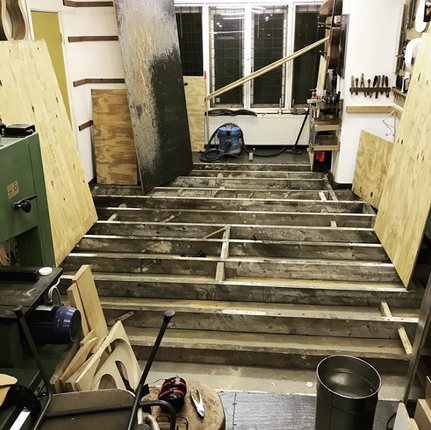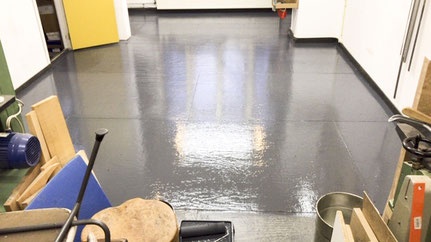 ---
December 2019
Last October we introduced'Blue', our  hollow-body electric guitar. She's a big hit, and we've started on two new models. This time, we're working with Quilted and and Tigerstripe Maple tops.
For more details about the new model, click 'Blue' or contact us...
The customer we're making a classical guitar for saw 'Blue', and asked if we could do something with Turquoise on his guitar too. No problem! We've designed a rosette made from African Blackwood (like the back and sides) and added Turquoise details. Also, the purfling will be made of this crushed stone.
A new batch of Small Jumbo Models is now available through our friends of Musik Overmann in Minden, Germany.
For more information, click here...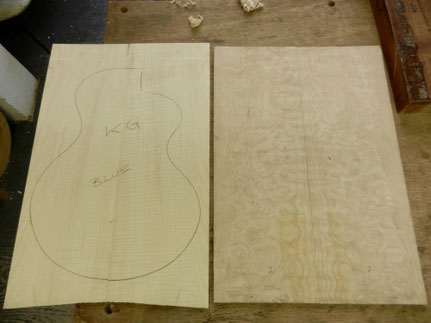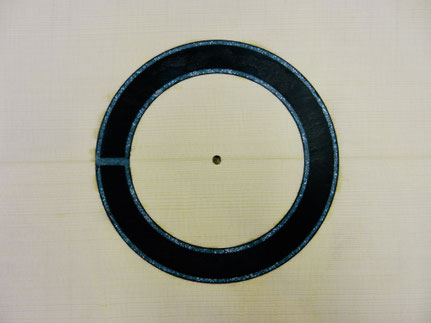 ---
October 2019
Meet 'Blue', our new hollow-body electric model!
Blue has a Mahogany body with a recessed Flamed Maple top and crushed Turquoise inlays. The fretboard, tailpiece and details are Ebony. For pickups, we chose Amber's hand-wound O-tone '59's. She's fitted with Deluxe Gotoh 510-series tuners.
For more details or to try this instrument click 'Blue' or contact us...
A new batch of Small Jumbo Models is now available through our friends of Musik Overmann in Minden, Germany.
For more information, click here...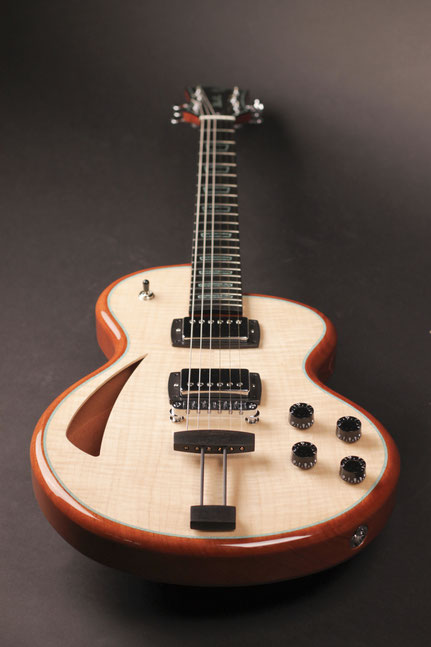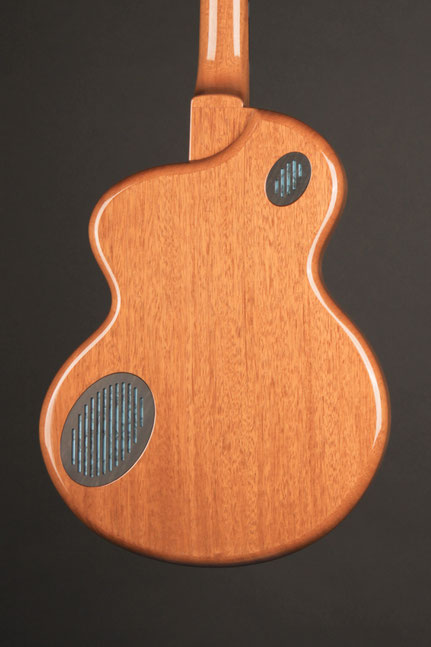 ---
September 2019
Exciting times! Last month we were commissioned to build an archtop ukulele and a 9-string version of our Montreux model. Anxious to get started on these special models!
Working hard on Lionel Loueke's Custom Geneva Model this month. After the sides were fitted to the slots in the heelblock, the top and back were glued. We now have a box! With the holidays over, it's time to start on the bindings and fretboard.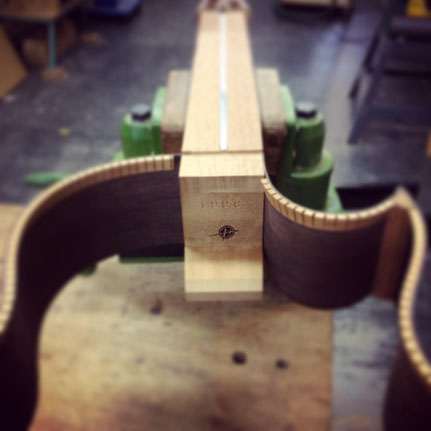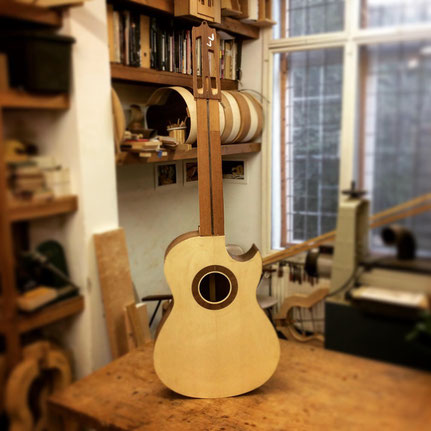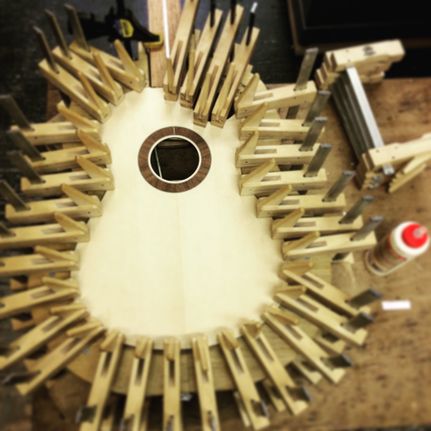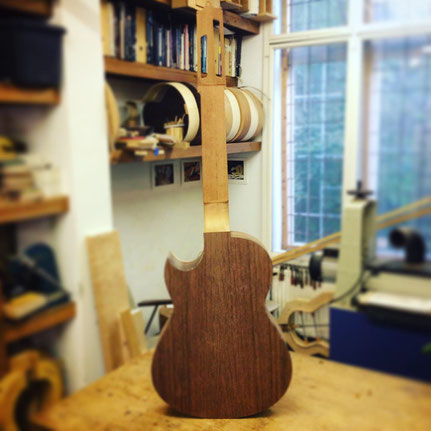 ---
August 2019
Our multi-scale Geneva Model for Lionel Loueke is coming along nicely. We use a vacuum set-up to glue the braces to the top and back before shaping them. Both the plates are ready and we are now bending the sides and shaping the headstock. In the bottom right picture you see the 'LL' inlay cavity and the truss rod. Not customary on nylon string guitars, but a very welcome feature when one does a lot of traveling!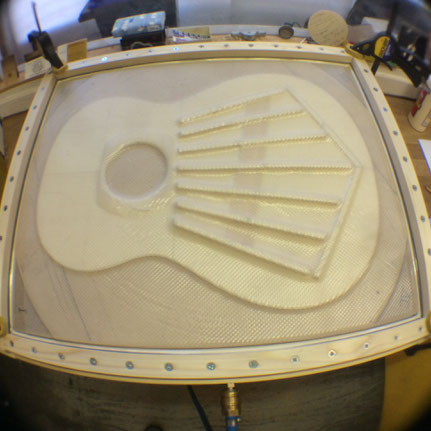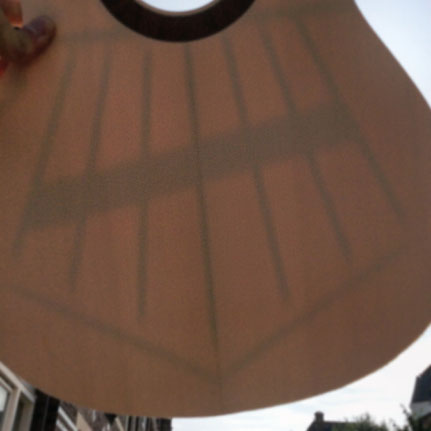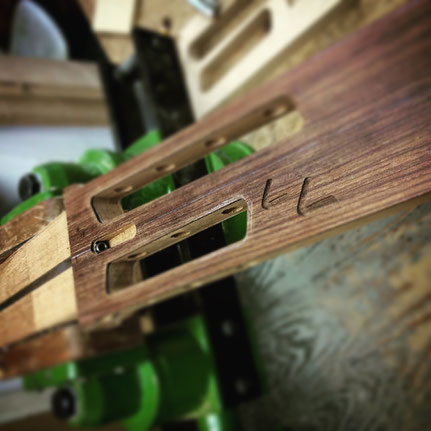 July 2019
We got a commission from the great Lionel Loueke to build a custom version of our Geneva Nylon Jazz Model. This 7-string guitar will have a multi-scale fretboard, Madagaskar Rosewood back and sides and a European Spruce top. RMC pickups will be used for amplification. 
Our new Thinline model 'Blue' has had the first layers of sealer applied. The lacquer really brings out the crushed turquoise stone inlay.
The challenging repair of a 15 year old Flamenco guitar turned out nice. The instrument has been French polished and awaits pickup by its owner.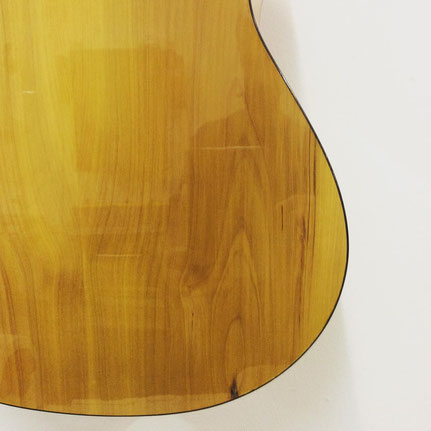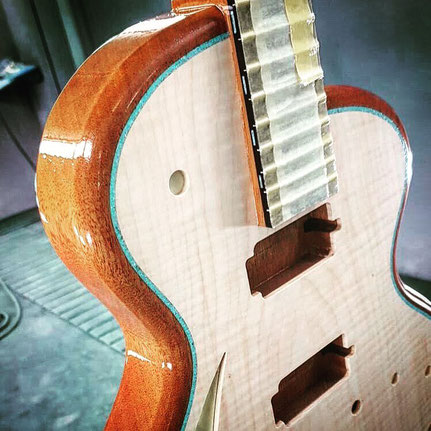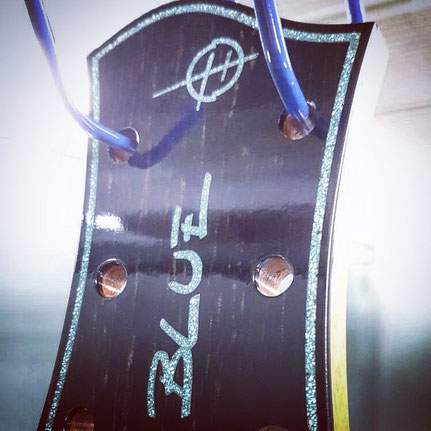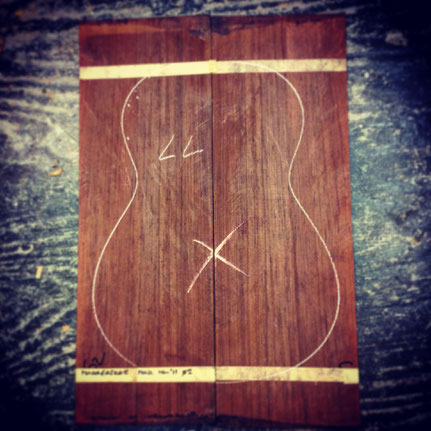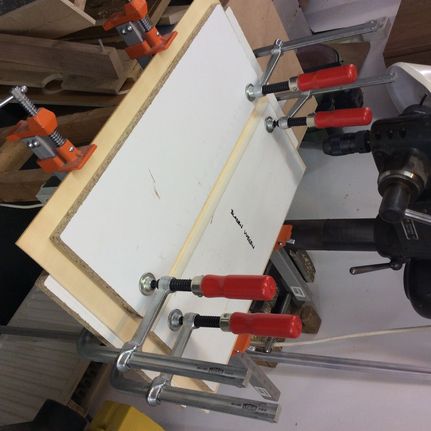 ---
June 2019
Busy times! Three Small Jumbo's are close to completion, one of them a fanned fret model. Also, we were commissioned to build a Brazilian Rosewood guitar.
The latest concert of the 'Heeres Guitars Presents...' series by Olaf Tarenskeen and Yvonne Smeets at DNR theatre was very successful. Visitors enjoyed an evening of song and guitar from this great new jazz duo. 
To top it all off, we can now say that jazz phenomenon Gilad Hekselman plays our Geneva Nylon Jazz model!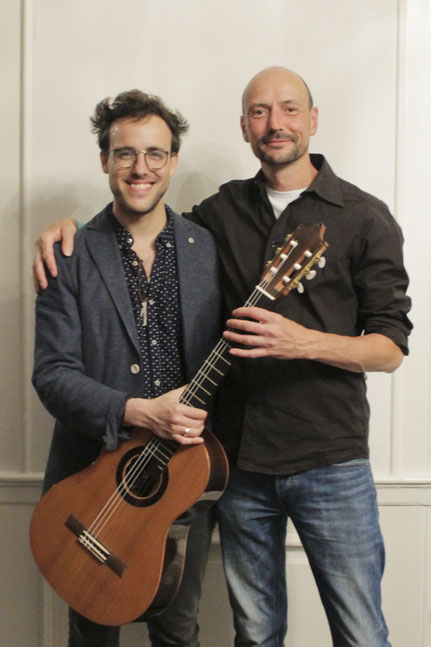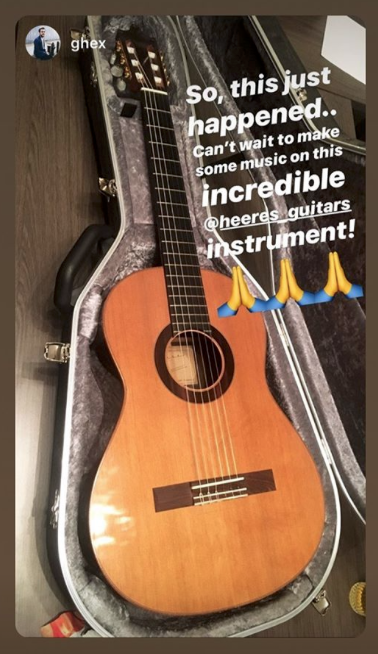 May 2019
Two new guitars were handed over to their owners last month. One is a 16" Jumbo model  with Cocobolo back and sides and a Sitka Spruce top, the other a Brazilian Rosewood Geneva Nylon Jazz model with a European spruce top.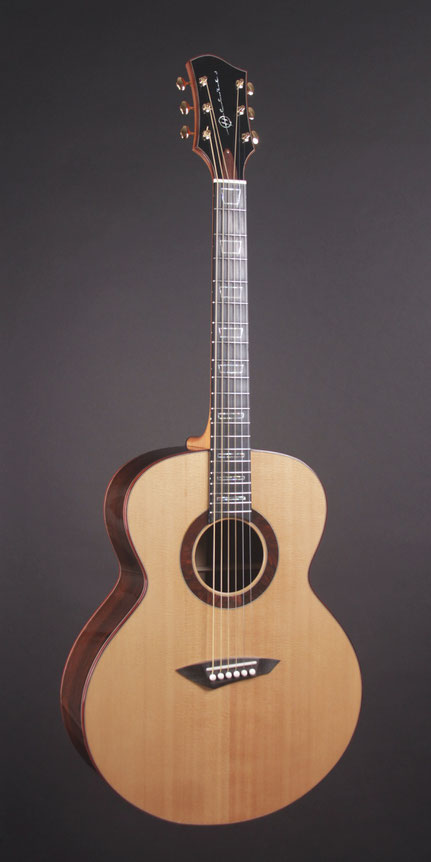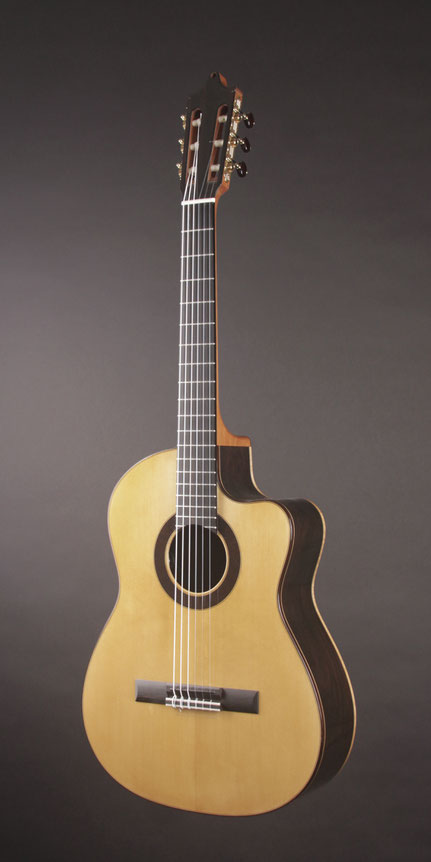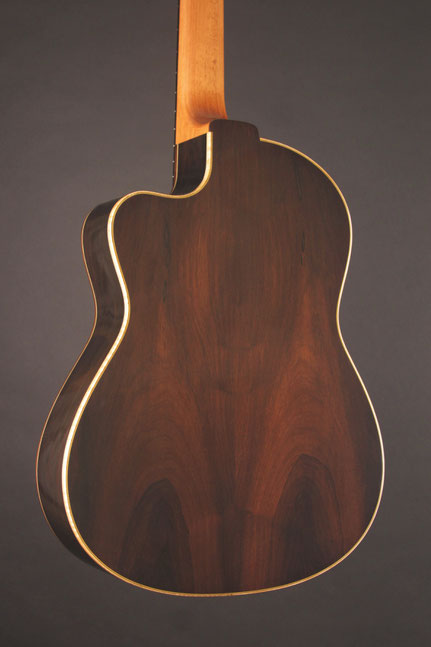 ---
---
April 2019
We exhibited our latest archtops at the Vintage Veenendaal Guitar Show where we met some old friends and made some new. Below you see Jens Larsen and Jeen Rabs trying our new guitars. This great show is held twice a year. We're already looking forward to September's edition!
We've recently started on a new batch of instruments. Busy times with 2 archtops, 3 flamenca blanca models, 1 bandolim, 1 mahogany 00-model and a classical guitar made with exotic ebony back and sides.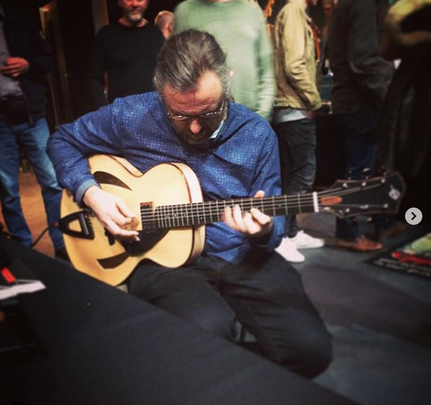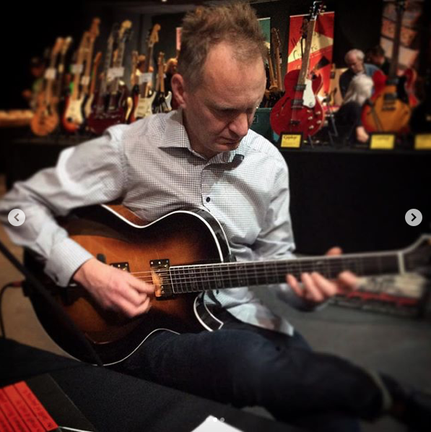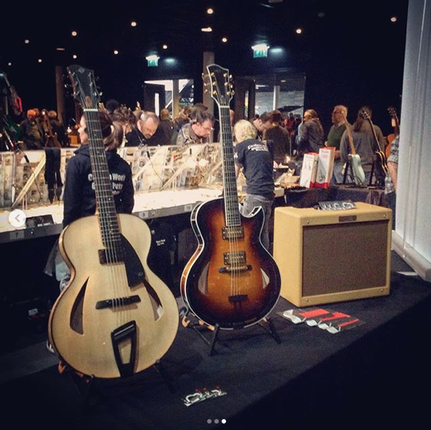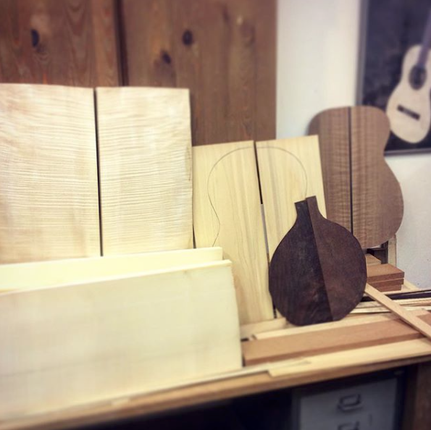 ---
March 2019
The repair of our injured 2005 Flamenca Blanca is nearly done. All the pieces are glued back in place. We will now sand the back and sides and French polish them.
A new OM-model was delivered to its owner. This instrument has a European Spruce top and African Blackwood back and sides. The 'pyramid' bridge is made from Ebony and is fitted with a Barbera transducer.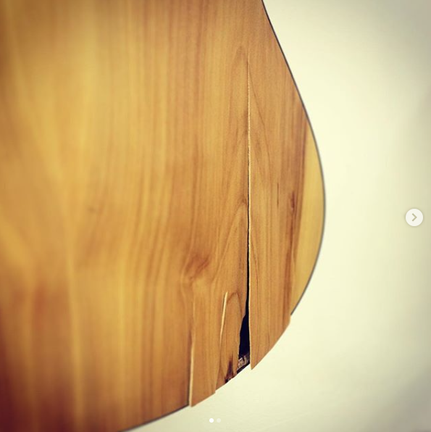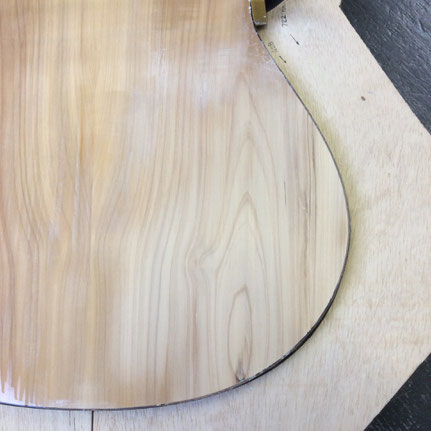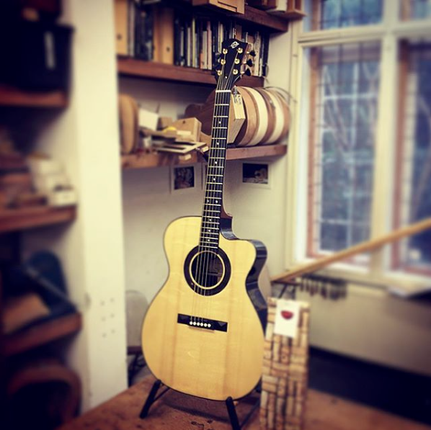 ---
February 2019
Ouch! This Flamenco Blanca we made in 2005 got hurt pretty bad. We're working on the repair, which will be as good as invisible, despite how she looks right now. The missing piece was still in the case and will be put back into place before the binding is replaced.
Our new thinline electric model is taking shape. 'Blue' will be finished in nitro-cellulose in a couple of weeks and will be presented in the spring. The pictures show how the crushed turquoise inlays are fixed in the binding channel before we radius the top.
Also under way is the latest batch of Small Jumbo models. Three Maple models and one Rosewood model are being finished at the moment and should be ready for delivery next month.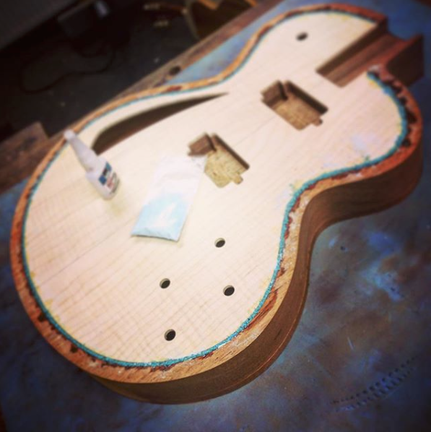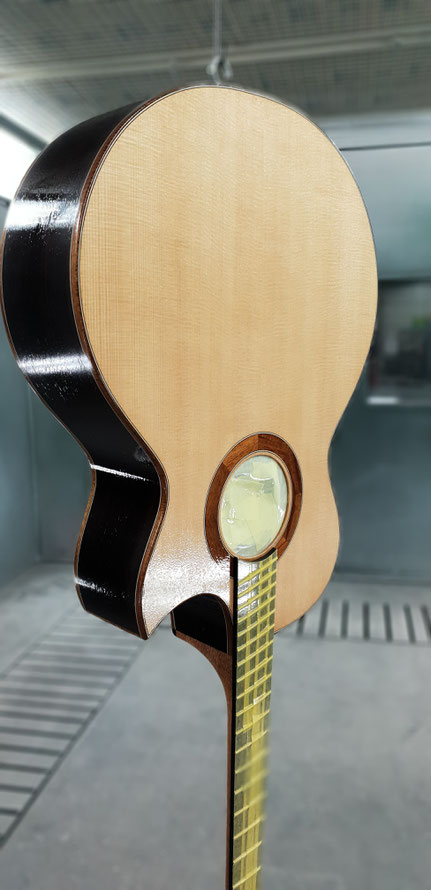 ---
January 2019
HAPPY NEW YEAR!
Heeres Guitars is looking forward to a great 2019. We're very excited to have found two new dealers for our instruments. Rudolf Eeken of La Guitarra Buena offers some of our nylon string guitars in good old Amsterdam.
Our German friends might want to visit Musik Oeverman Minden for a selection of Small Jumbo models.
We're working hard on a new batch of Small Jumbo models. Also, we were commissioned a Flamenca Blanca with 100+ year old Cypress by a promising young guitarist. More about that soon...
---
December 2018
A new Cocobolo Jumbo model (a big one, not our Small Jumbo model) is ready for the first layers of nitro-cellulose lacquer. It has Abalone inlays in the ebony fretboard and headstock.
We've also finished a new Montreux Model Archtop. This instrument was made with a European Spruce top, a one-piece Maple back and Carbon Fiber details. We'll be recording with it this month. Stay tuned for more!
---
---
November 2018
A new Cocobolo Jumbo model (a big one, not our Small Jumbo model) is coming along nicely. Using a vacuum set-up, we glued the braces to the top and finished the body. It's now ready for binding and purling.
Progress on the Brazilian Rosewood Geneva Model was made, too. The top was glued to the sides and neck, so this guitar too is ready for binding. The Geneva Nylon Jazz model is made the Spanish way: the sides are first fixed to slots in the heel block, after which the back and top are glued.
October 2018
The Montreux model archtop is being finished. The one-piece back looks simply spectacular. The carbon fiber details have a great 3D-effect when the shiny lacquer is applied!
In collaboration with B|s|m|r Guitars, we're working on a new batch of Small Jumbo models, one of which will have a multi-scale fretboard. In the picture you can see what the effect is on the bracing and bridge plate.
Last, but not least, we've started on a new Geneva model. We found a beautiful piece of Brazilian Rosewood for the back and sides. To really show off the grain, this guitar will be made with minimal ornamentation.
May 2018
The new Montreux model archtop is coming along nicely. The back was glued to the sides, and the top is well under way.
We also finished the box of an African Rosewood OM-model. The binding of this guitar was glued last week. Next: the neck.
As for the new batch in the Small Jumbo series, all sides are bent and joint to the heel block and tail block. Next month we'll be closing the first boxes.
April 2018
Preparations for the Holy Grail Guitar Show (Berlin, May 5-6) are in full swing. We've also been working on a new non-cutaway Montreux model archtop with carbon fiber headstock, tailpiece and finger rest.
Meanwhile, we're making progress with the Small Jumbo series. All sides are bent, and we are currently working on the cutaway models and joining the sides to the heel block and tail block.
March 2018
We've started on a new batch of Small Jumbo models. These guitars will all  be built with a cutaway. One of them will have a multi scale fretboard for easy playability on the trebles, combined with tight basses.
One of the pieces Fernando Riscado Cordas played at the celebration of our 25th anniversary is now online. It's Federico Torroba's Aires de La Mancha, played on a Master Model classical guitar with Ziricote back and sides. For a YouTube clip, click here...
February 2018
Some more clips of the celebration of Heeres Guitars' 25th anniversary were mixed and edited.
For Marcio Philomena's performance of Turn Out the Stars, click here...
For a Tarantas by Arturo Ramon, click here...
We've also started on a new thinline model. The chambered body of this new guitar is made of Honduran Mahogany (one piece) with a Tigerstripe Maple top. The headstock and fretboard are Ebony. All inlays are crushed turquoise stone. She shall go by the name 'Blue'.
January 2018
 The first clip of the performances at the celebrations of Heeres Guitars' 25th anniversary was mixed and edited.
Olaf Tarenskeen and Axel Hagen connect John Coltrane, an original composition and Django Reinhardt in a 20-minute piece of continuous music. For the clip on YouTube, click  here...
November 2017
We're working hard to get all the details for the festival celebrating our 25th anniversary just right. Besides workshops, lectures, films and concerts by some truly great musicians, we've managed to put together an exhibition of 40 Heeres Guitars! More below (Dutch) and under '25th anniversary' on this page.
Gitaarfestival Den Haag in teken van Heeres gitaarbouw
Eenmalig 40 Heeres gitaren te zien
Tijdens het Gitaarfestival Den Haag zullen overdag 40 handgebouwde instrumenten te zien zijn van gitaarbouwer Richard Heeres. Vanwege zijn 25 jarig jubileum is een pop-up tentoonstelling georganiseerd waar eigenaren van een Heeres gitaar hun jazz, flamenco, klassieke of dubbelhals gitaar tonen. "Ik had niet verwacht dat ik 40 gitaren bij elkaar zou kunnen verzamelen, dit wordt een eenmalig en bijzonder overzicht", zegt de Haagse bouwer. De eerste editie van Gitaarfestival Den Haag vindt plaats op 25 november in Theater De Nieuwe Regentes. Het festival organiseert overdag workshops en lezingen, vertoont films en de tentoonstelling van Heeres' gitaren. 's Avonds zijn er optredens van jazz-, klassieke, flamenco- en popgitaristen van topniveau. 
October 2017
The second batch of Small Jumbo's was completed. They came out beautifully. Like with the first batch, we have one model of each type. Check out our 'Gallery' page for more.
November 2016
We recorded the guitars with our good friend Terence Hansen, who wrote a one-minute piece for the occasion. He played the piece  on all four models, so the difference between them can be heard. The recording was done at Bullet Sound Studios under supervision of Erik Schurman.
You will find the tracks under 'mp3' on this page.
October 2016
Instruments #1604, #1605, #1607 and #1618 (one of each model) were finished last month and have been played and tested by their happy new owners, plus a dozen or so more guitarists. These guitars were built as 'Concept Models', and we planned to make use of any comments players might have about sound and looks at this stage. We got some small but very helpful hints on the aesthetics, like the height of the binding and the shape of the fretboard at the soundhole.
We thank the panel for their input ;-) The new ideas will be incorporated in the next batches.
We are now working to finish the next four guitars, with numbers #1601 (Mahogany), #1602 (Maple I), #1606 (Maple I) and #1608 ( Rosewood). They will be ready for dispatch next March.
The Small Jumbo models will be on display at the International Guitar Festival, Zwolle, October 15! 
September 2016
Ready to deliver the first instruments to their new owners!
The lacquer is dry enough to scrape away the area where the bridge will be glued to the top. We've made and glued the bridges, and installed the nuts and tuners. Also, a basic set-up was done.  We let the string tension do its work for a couple of weeks, before the frets are trued.
The Small Jumbo models will be on display at the 25th anniversary of the Vintage Guitar Show in Veenendaal, September 17!
August 2016
Holidays! A good time to let the lacquer cure before we continue to work on the guitars.
July 2016
We got our first four guitars back after they were lacquered! So, very soon, they will find their way to their new owners. All that's left to do now is make the bridges and fit the nuts, saddles and tuners.
June 2016
The first batch is ready for lacquer, and we're very happy with the results so far! Frans Elferink of Elferink Guitars has taken it upon him to finish the first guitars, while we work on the next batch.
May 2016
The necks have been shaped and glued to the bodies, and we've made the heelcaps. The M.O.P. logo inlay glued, and the edges of the instruments rounded, there's some final sanding to do...
April 2016
The first batch of fretboards have had the frets pressed in. After the tenon was cut, we glued the fretboards to the necks, which are now ready for shaping. We've also routed the mortise and sanded the first four bodies to the point where we can join the neck and body.
This batch should be ready for lacquer next month!
March 2016
It's becoming increasingly apparent that 20 guitars will take up a considerable portion of our workshop space (duh!). So, we've decided to concentrate on getting a first batch of four ready for finishing. While they are at the painter's, work on the next batch resumes, and so on. This will keep the workshop obstacle-free and safe, and will enable us to present the first models in July.
The first four bodies we have are bound and sanded, and are ready for routing the dovetail.  The truss rod channels are routed into the necks, and the 'ears' have been glued to the headstock. Eight fretboards have been thicknessed and radiused, and had the fretslots sawed.
February 2016
The eight bodies we have so far, are now half-bound. Four of the necks have the heel block glued, and the ebony headstock plates have the logo cut out. We've also made templates for the dovetail joint between the neck and body.
For a YouTube clip showing how the binding is done, click here...
January 2016
We've bent the sides for the next set of 4 guitars. They've been joined with heel blocks and tail blocks, have had the radius sanded and the kerfed lining glued in place. The backs and tops ready to glue to make four more boxes.
The neck wood has been thicknessed and the headstocks cut and glued.
December 2015
The Early Bird discount ends by the end of the month! 
The first four bodies are ready. We have one Mahogany, two Maple and one Rosewood body. one of the Maple guitars will have a Rosewood fretboard and bridge, the other one Ebony. We'll put the bodies away for now and start bending more sides.
For a YouTube clip showing how the boxes are closed, click here...
November 2015
The first backs are glued to the sides, and we shaped and scalloped the braces of a couple of tops. We'll have the first four boxes pretty soon!
October 2015
The first 4 sets of sides are joined and sanded to the top and back curve. We glued the kerfed linings and side reinforcement strips.
September 2015
We are tap tuning the tops and shaping the braces after the first run. The glueing of the main X in the second run is coming along nicely. Heel blocks and neck blocks are cut and sanded to the right dimensions. Ready to start joining the sides!
For a YouTube clip showing how we shape the braces, click here...
August 2015
Almost all braces for the tops are ready to be glued. We glue them in two sessions, with the X-braces in the second run. Our vacuum clamping system did a perfect job on the seven tops so far to come out of the first session.
For a YouTube clip of the first session, click here...
July 2015
The backs are thicknessed and tuned. The braces and reinforcement strips are glued and shaped. So, we have all 20 backs ready! The bindings and purflings are ready for bending.
June 2015
The tops are cut to their final shape and they are ready for the braces. We've also started preparing the sides for bending.
April 2015
The sides are thicknessed and marked for bending. Bindings and purflings are being prepared.
March 2015
Tap tuning time! The tops and backs are individually sanded to close to their final thickness. 
February 2015
All tops and backs are jointed and rough-cut to shape. The rosettes are inlayed in the tops.
January 2015
We've started on our new Small Jumbo model!
For a small shop, used to custom building guitars, making 20 guitars is a lot of everything. We've selected and graded all the woods and thicknessed the plates, so we can now joint the two halves. The first segments for the the rosettes have been made, too.